Original en español : CONTRA LA VULNERABILIDAD EN EL SECTOR DEL SERVICIOS DE COMIDAS [ULET-AIT] https://www.acat-ait.org/2023/04/23/vulnerabilidad-comidas/
Working in a "black kitchen" restaurant, making deliveries and preparing food, is one of the alternatives that young people in Colombia find as a main source of income; besides, for young people, the labor market does not offer much of an option. However, it is one of the sectors with a high rate of irregularities in the hiring of workers.
Although there are no exact data on the number of workers hired in the country for these activities, growth can be inferred in recent years. According to data from the National Administrative Department of Statistics – DANE, the accommodation and food services sector for January of 2023 contributed 1.6% to the country's economy, more than activities such as manufacturing industry with 1.0%. And, in the specific case, in the municipality of Neiva, in 2020, according to the mayor's office, approximately 7,958 workers were hired in this sector.
So, while there is growth in the numbers employed in this sector, the violation of rights is also daily bread for the workers. Well, usually, some of these buffet-type restaurants, gourmet restaurants, bars, food courts, themed restaurants, etc. pay by the hour, and they waive the obligations that workers have by right regarding social benefits, social security and affiliation to a compensation fund. Hence, for a majority this is not enough to even receive a minimum wage. It generates job instability that puts workers and their families at risk, many of whom are students. Likewise, there have been some cases of theft of tips by employers, which by right belong to the workers. Among other violations are workplace harassment and long working hours, as well as unfair payment to «immigrants.»
In this sense, we want to show that these irregularities must be denounced by the workers; silence should not be an option in the face of violation and workplace harassment. Just as the workers, through their labor power, help the growth of the sector, their rights must be recognized and ensured by the employers.
DEFEND YOUR RIGHTS WITH US!
— Neiva Various Trades Union Regional Federation of Huila, ULET-AIT
From the AIT-IWA Bulletin : https://iwa-ait.org/content/iwa-external-bulletin-may-2023-a4-version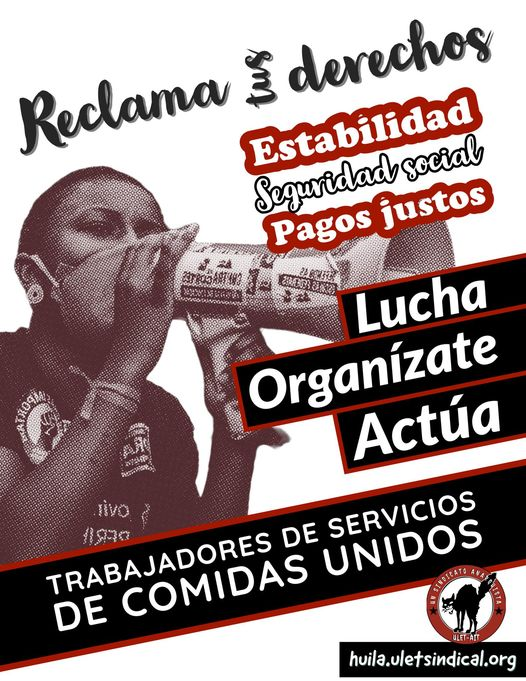 ULET
Unión Libertaria Estudiantil y del Trabajo
email: contacto@uletsindical.org
http://www.uletsindical.org/

Facebook : @ULETsindical https://www.facebook.com/ULETsindical/
Twitter : @ULETsindical
Sindicato de Oficios Varios de Neiva, Huila

https://twitter.com/ULETHuila
https://www.instagram.com/sindicatooficios
sindicatodeoficiosvarios@gmail.com
Únete y lucha !